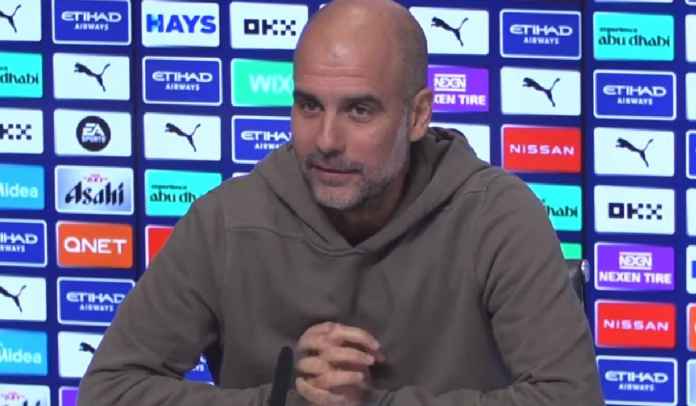 Pep Guardiola mulai tak senang Arsenal kelamaan di puncak klasemen Liga Inggris. Dia pun meminta ke pemain Manchester City untuk tancap gas dari sekarang sampai akhir musim. 
Gila Bola – Pep Guardiola gerah Manchester City belum bisa salip Arsenal lagi di klasemen Liga Inggris 2022/23. Sang pelatih meminta para pemainnya sekarang bermain sempurna.
Seperti diketahui, Arsenal mampu bertengger cukup lama di puncak klasemen Liga Inggris. Teranyar, mereka bermain imbang tanpa gol lawan Newcastle United dan membuat mereka selisih 8 poin dengan The Citizens di urutan kedua.
Artinya, jika terus memiliki jarak poin yang jauh dengan klub sepak bola asal London Utara membuat Manchester City bisa sulit pertahankan gelar Liga Inggris. Pep Guardiola rupanya tak mau Arsenal jadi juara dan meminta ke pemainnya untuk tampil habis-habisan.
Tuntutan Pep Guardiola ke Pemain Manchester City 
Manchester City telah dua musim beruntun menjuarai Liga Inggris dan mereka dijagokan kembali untuk mempertahankannya di musim 2022/23. Namun semuanya berubah karena Arsenal secara mengejutkan mampu bertahan lama di urutan pertama dan kini mulai sulit dikejar oleh The Citizens poinnya. Pep Guardiola pun mendesak ke pemainnya.
Dikutip dari Sportsmax, Guardiola mengatakan cara untuk memperkecil jarak dengan Arsenal di klasemen adalah dengan bermain bagus dan memenangkan pertandingan.
Menurut pelatih sepak bola asal Spanyol, jika The Gunners melanjutkan tren positifnya akan membahayakan Manchester City. Oleh karenanya, Pep ingin mulai sekarang sampai akhir musim di setiap laga harus bermain sempurna.
Harap Arsenal Terpeleset di Liga Inggris
Manchester City di laga terakhirnya harus puas bermain imbang 1-1 melawan Everton di Etihad Stadium. Jadi hasil itu sebuah kerugian untuk The Citizens. Namun Pep Guardiola berharap usai laga melawan Newcastle United klub sepak bola asal Londoin Utara tergelincir di Liga Inggris.
Guardiola bahkan juga mengharapkan agar penampilan tim besutan Mikel Arteta juga ikut menurun sampai akhir musim. Tapi eks pelatih Barcelona tetap akui jika Arsenal memang tampil luar biasa saat laga terakhir kontra Newcastle United.
Manchester City sebelum jeda internasional juga mendapatkan kejutan dari Bretnford. Ya, bermain di kandang mereka disengat oleh Si Lebah dengan skor 1-2.
Komentari Lawan Chelsea
Setelah bermain imbang 1-1 kontra Everton, Manchester City akan menghadapi Chelsea pada hari Jumat (6/1/2023) dini hari WIB. Menjelang pertandingan, Pep Guardiola memberikan tanggapan.
Pep Guardiola menilai ketika bermain ke Stamford Bridge akan selalu sulit. Menurutnya, Chelsea tetap sulit untuk dikalahkan.